TENFIFTEEN A58 BLOOD OXYGEN MEASURE FATIGUE SMART BRACELET
Whether you already live an active lifestyle or you just want to get started, we have the gear to take you further. All-sides health monitor functions from heart rate, blood oxygen and fatigue to sleep time, pedometer; from call and SMS reminder to third-party message notification, we are devoted to offering a best sports partner covering all you need.

Wrist-based Health Smart Bracelet with Activity Tracker
- Intelligent health monitor function: measure blood oxygen and pressure, fatigue and heart rate
- Well appointed communication tool: receive call, message, calendar and notification of App
- Multiple sports recorders and trackers: track sports steps, distance, calories, etc.
- Excellent wristband performance: remote camera, anti-lost function, IP67 waterproof
1. Master Body Condition
TenFifteen A58 uses advanced technology to monitor heart rate at the wrist, which gives you the freedom to work out however you want, with no additional heart rate strap needed. After connecting to the App, you are able to measure blood oxygen and blood pressure, knowing your physical condition at all times and places. Fatigue also can be checked at the App. It will send a signal to tell you whether it's time to take a rest.

2. Measure Activity Intensity
Using sports tracker, A58 smart wristband provides calories burned information. This allows you to compare calories consumed to total calories burned, whether you're going for a jog or trying out a new boot camp class, it quantifies the intensity of your fitness activities using intensity minutes. With the features of pedometer and distance measure, it is easy to know how many steps you've taken and how far you've gone.

3. Keep in Contact
The A58 model supports smart notifications when paired with a compatible device. When you have incoming calls or SMS, the bracelet will vibrate and show the content. Convenient to receive call or message right on your watch no matter you're on the trail or simply away from your desk. Notifications from third-party software ( such as Wechat, QQ ) can be checked via connecting the App.

4. Perfect Design and Function
With the anti-lost function, the bracelet will give a reminder when the working connection distance is out of range. It's cool to control your mobile phone's camera by the A58. Reaching the switch is no longer a problem. IP67 waterproof enables bracelet to be held in the rain, in the process of washing hands, bathing, taking shower, swimming, etc.

Buyers Guidelines:
1. Be compatible with Bluetooth version 4.0, Android ( OS 4.4 or above ); for iPhone ( iOS 8.0 or above )
2. IP67 waterproof means that stepping depth doesn't exceed one meter and steeping time doesn't exceed 30 minutes
3. Please scan the QR code:

or search "
Hero Band
" at Apple Store or Android market to download the App
4. Filling up the bracelet takes about 2 hours
5. The range of the Bluetooth connection is over 8 meters
Frequently Asked Questions
Q: Does it need a SIM Card to operate?
A: No. It can be used independently but some of the functions need to be connected with your phone.
Q: How long can the bracelet work and stand by?
A: The wristband's working time is about 7 days while stand-by time is about 20 days.
Q: Does the bracelet come with built-in camera?
A: The A58 bracelet does not have this function, but you can remote control your smartphone's camera via connecting Bluetooth.
Bluetooth Version: Bluetooth 4.0
People: Female table,Male table
Waterproof: Yes
Waterproof Rating : IP67
Screen: Yes
Screen type: OLED
Compatible OS: Android,IOS
Compatability: Android 4.4 / iOS 8.0 and above system
Language: English
Battery Type: Lithium Polymer Battery
Battery Capacity: 100mAh
Power: Built-in Battery
Standby time: About 20 days
Functions: Alarm Clock,Call reminder,Calories burned measuring,Camera remote control,Date,Distance recording,Measurement of heart rate,Notification of app,Pedometer,Sedentary reminder,Sitting posture reminder,Sleep management,SMS Reminding
Shape of the dial: Rectangle
Case material: ABS
Band material: TPU + TPE
The dial thickness: 1 cm / 0.39 inches
The dial diameter: 2.5 cm / 0.98 inches
The band width: 2 cm / 0.79 inches
Wearable length: 14.5 - 22.5 cm / 5.71 - 8.86 inches
Package weight: 0.153 kg
Product size (L x W x H): 23.50 x 2.50 x 1.00 cm / 9.25 x 0.98 x 0.39 inches
Package size (L x W x H): 8.80 x 14.60 x 3.60 cm / 3.46 x 5.75 x 1.42 inches
Package Contents:
1 x Smart Bracelet, 1 x Charging Clip, 1 x English and Chinese User Manual
Warranty:
3 months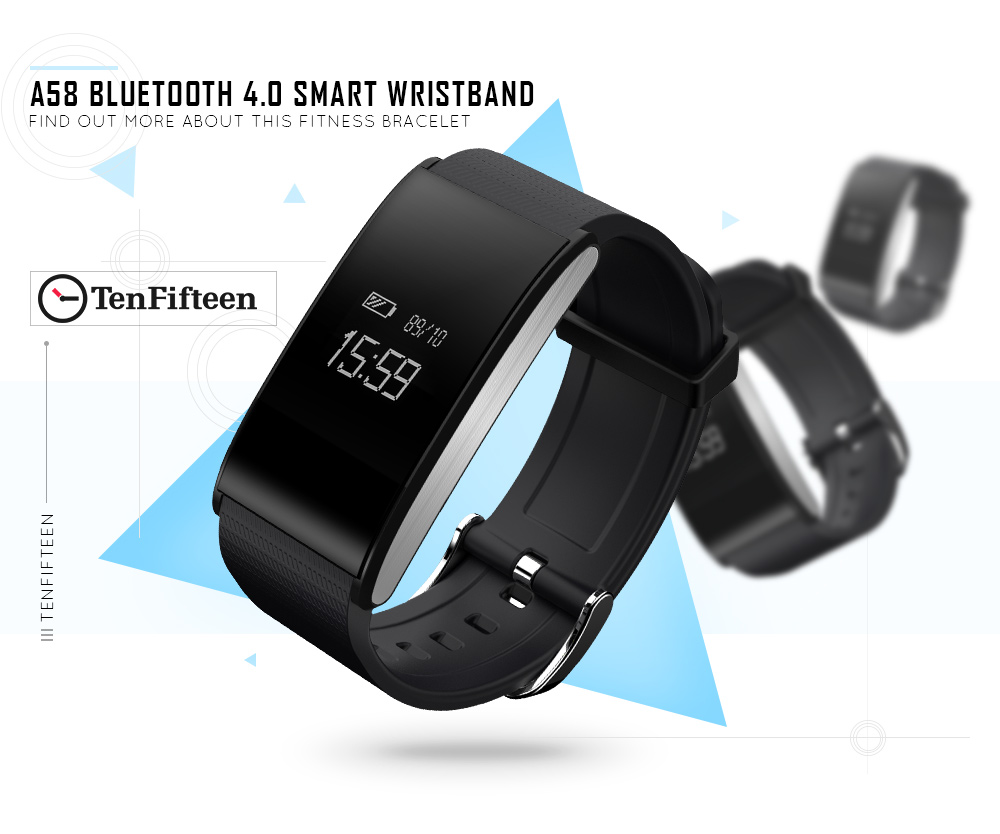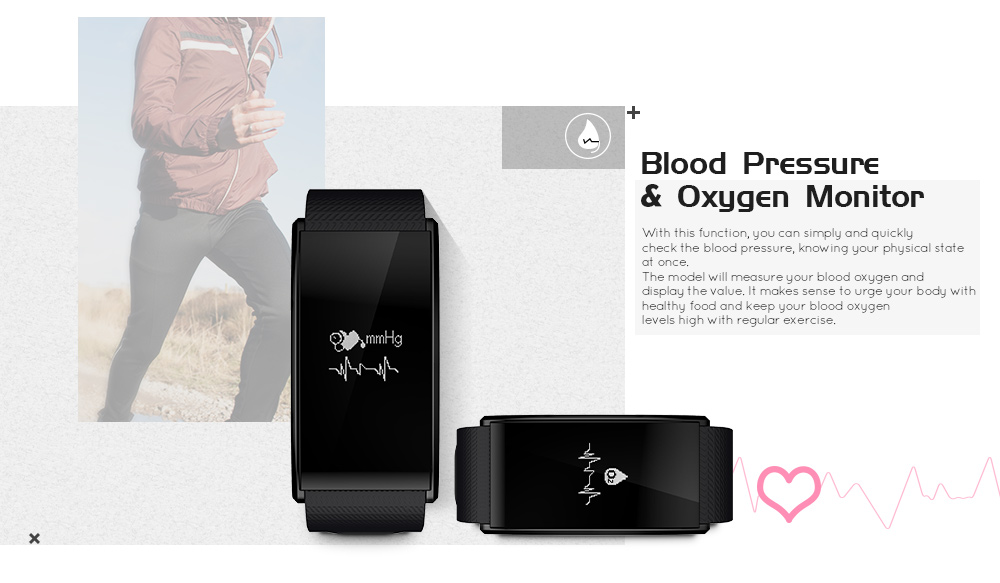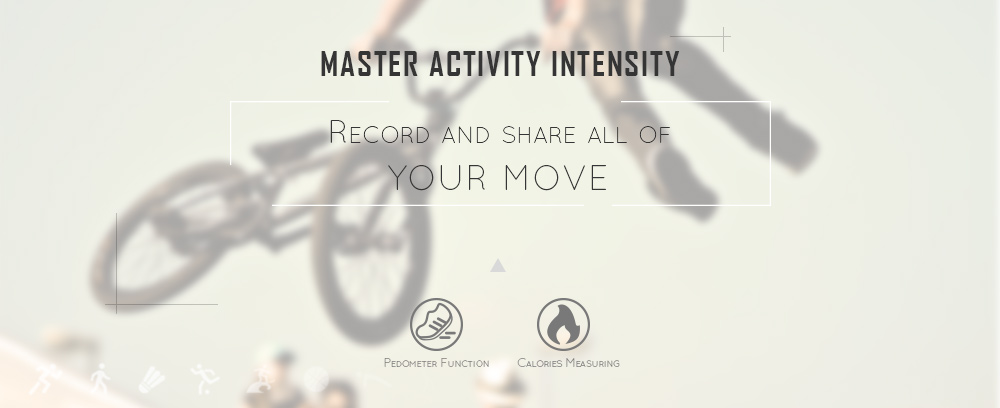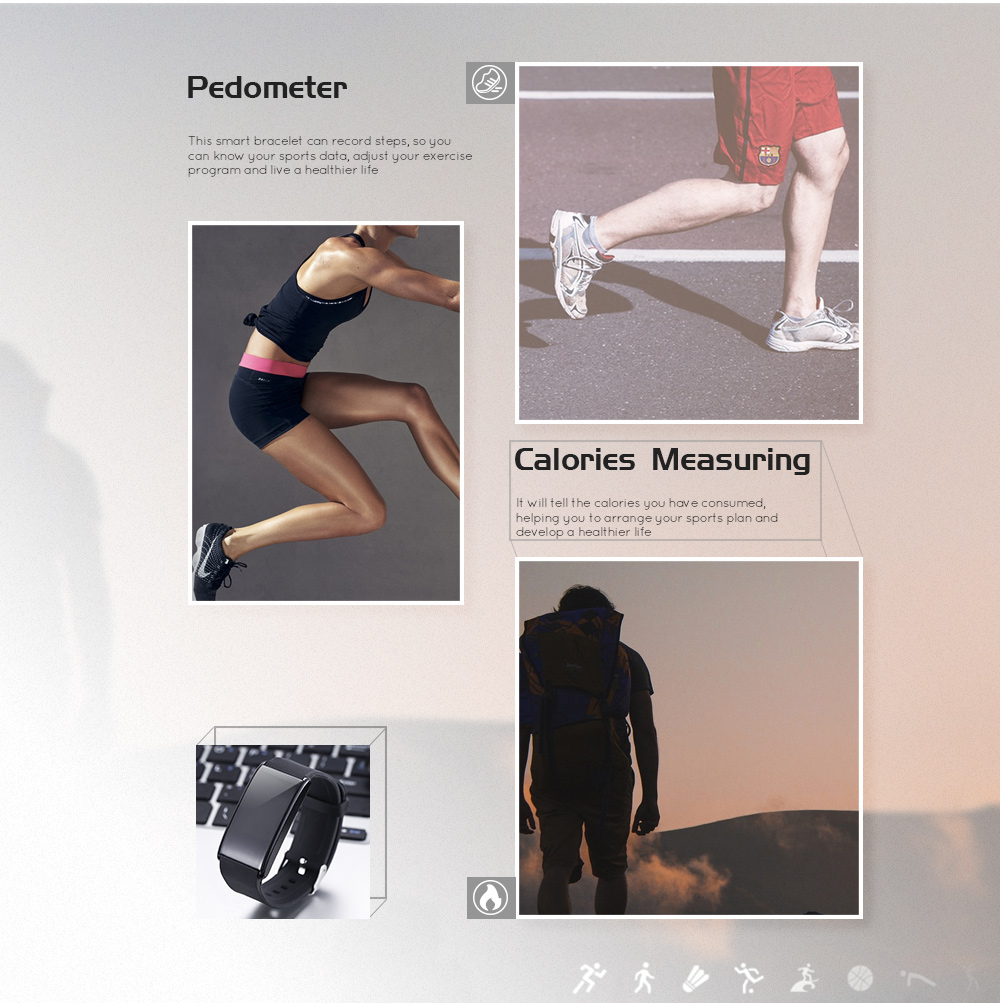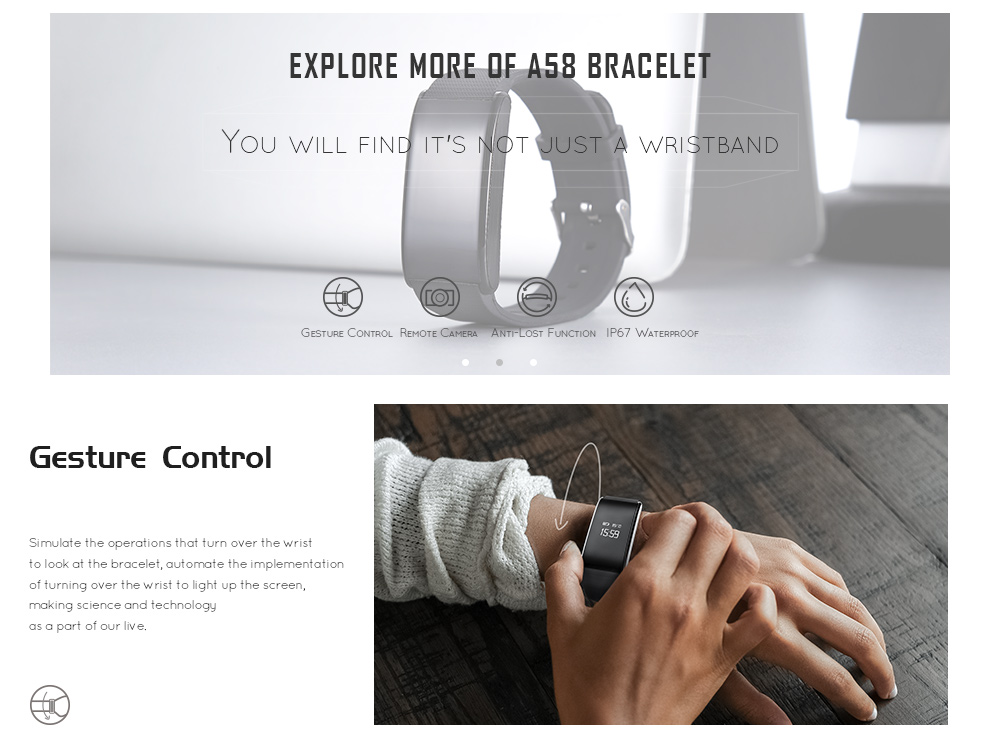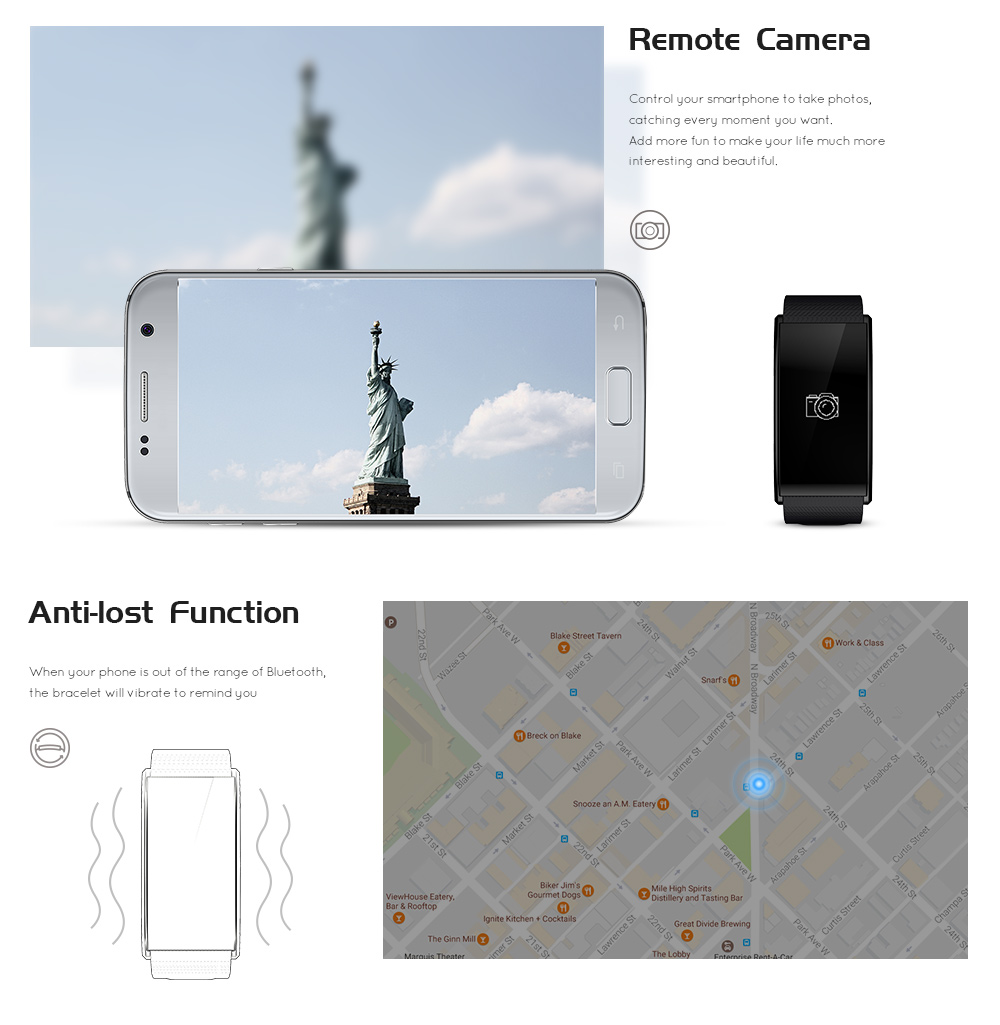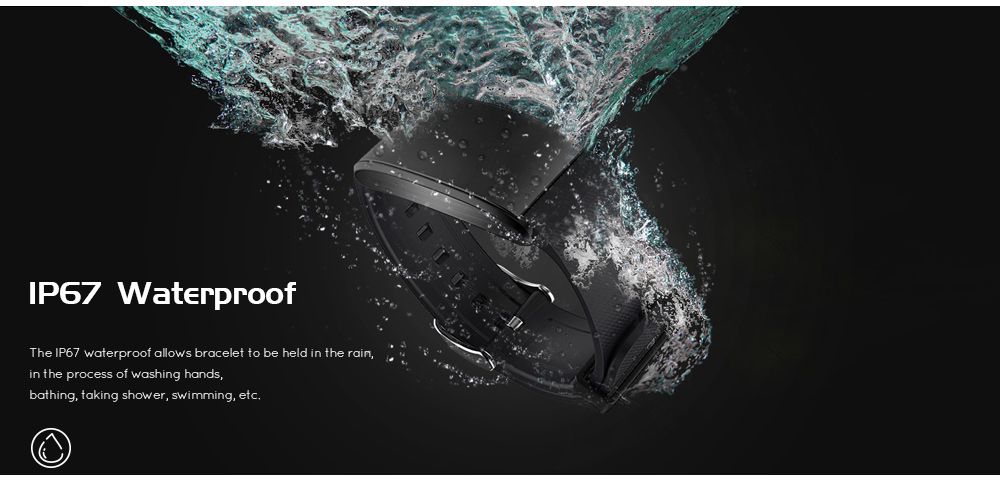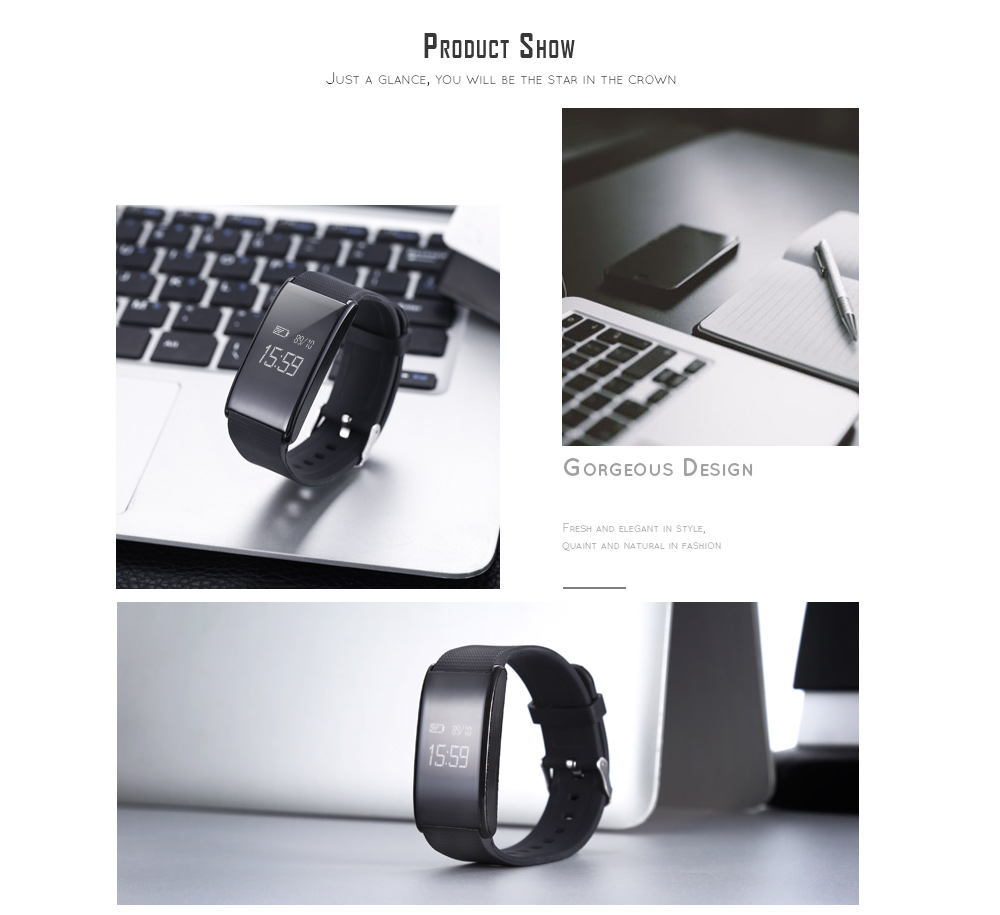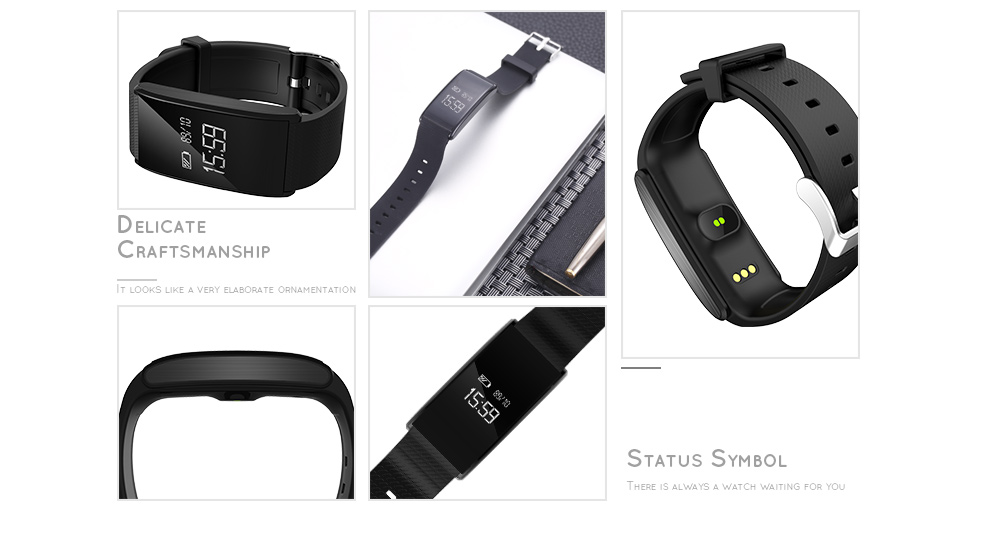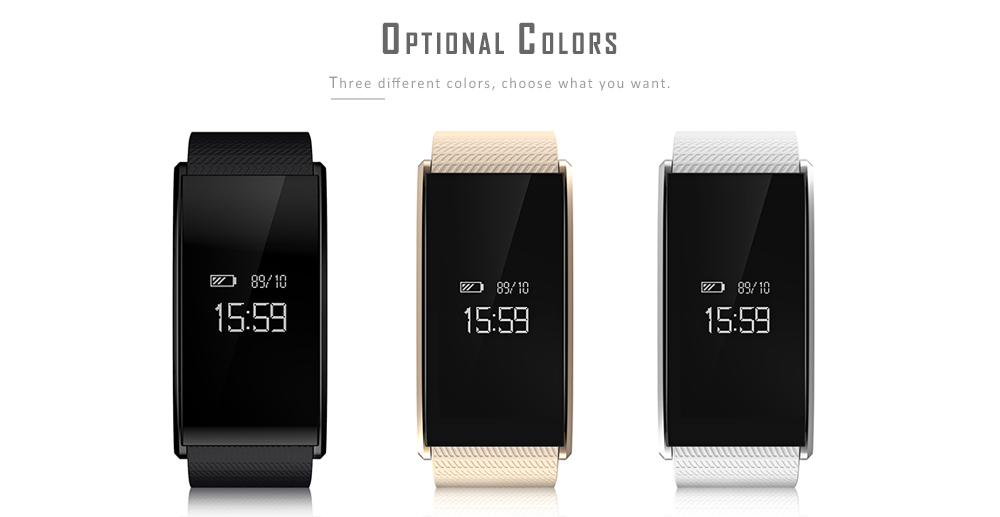 ---