---
How to make payment and collection of gold?
From : How to order Public Gold online? ( Non-GAP)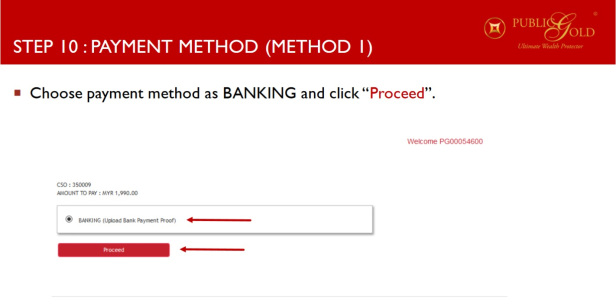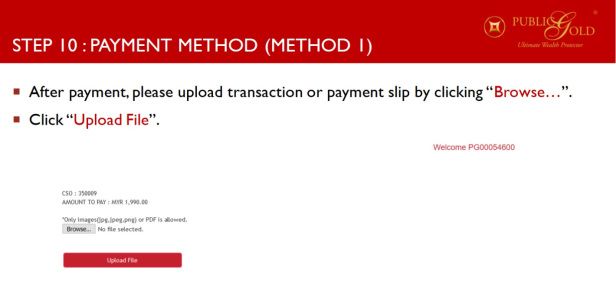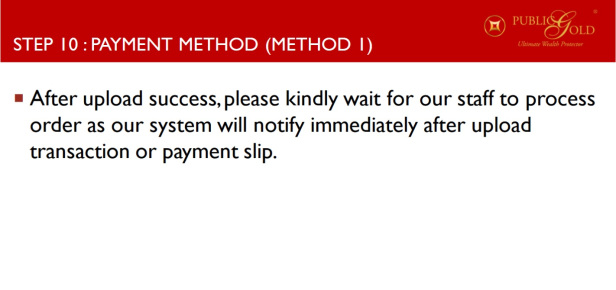 Click 'My Order*
Click *ID (CSO)* (refer CSO # at Invoice received)
Follow the following instruction below :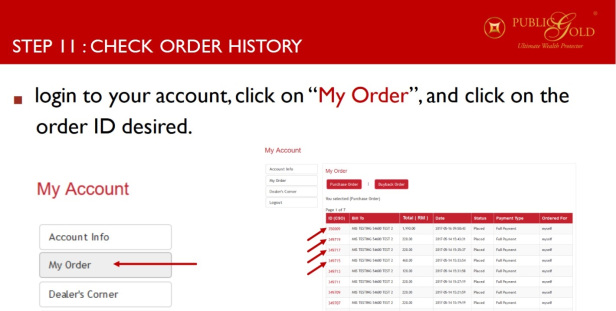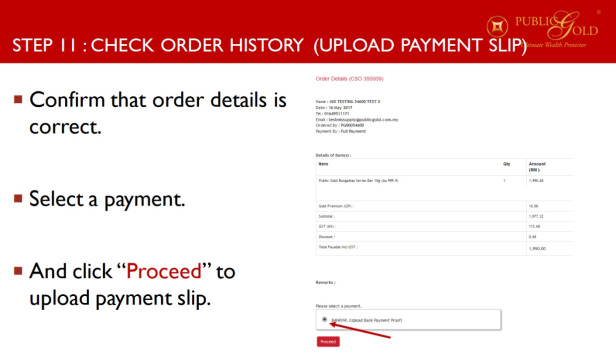 Additional Note
(Enclosed invoice or write down your Invoice No and email or cc to your introducer/dealer )
i.) Payment has to be make within 4 working days.
ii.) After payment, other method to notify with
a) Fax your proof of payment to +604-6464916
b) Emailproof of payment to: payment@publicgold.com.my
attn to: Public Gold Account Receivable Division.
iii.) CSO # and PG Code # must stated on proof of payment or stated in emaill.
iv.) Payment of cheque that below MYR25,000.00 will take 5 working days to proses.
v.) For Syariah Easy Payment Purchase (EPP), customer must pay within stipolated date every month. Public Gold has right to cancell Booking Order and take necessary action if customer fail to fullfil term and conditions stated.
STOCK COLLECTION
i.) Stock only will be release after payment clear.
ii) To expedite the process, customer advised to call the branch of Public Gold which you would like to collect stock to make appointment once payment has clear.
iii.) Customer must bring along original proof of payment when make collection of stock of gold. Public Gold may not release the above gold if you fail to bring the above proof of payment.
iv.) Only the owner of gold of dealer who act as introducer allowed to collect the gold on behalf .
iv.) For Dealer who represent your customer to collect the stock, dealer must fill up Authorization Letter (Can get from any branch of Public Gold) that signed by customer. The above stock will be released after consent of customer via telephone. However Public Gold reserve the right to reject the form if incomplete or with suspicious.
CANCELLATION OF ORDER
i.) Booking Order cannot be change nor cancell. In an unavoidable situation. Processing fee will be charges as a penaltyi. (5% of Booking Order's amount ; or difference between Booking Order and price of PG SELL when the order cancelled; (whichever higher). Customer account also will be retain untill full payment has been made.
ii.) Fori Syariah Easy Payment Purchase(EPP), customer has right to resell the abovementioned gold back to Public Gold before installment period end. The above gold will be buy back at PG BUY current price. Public Gold will calculate gross return (if any) and will returned to customer.
Back to : How to order Public Gold online? ( Non-GAP)

Public Gold Authorized Dealer
016-2927568
PG00201240